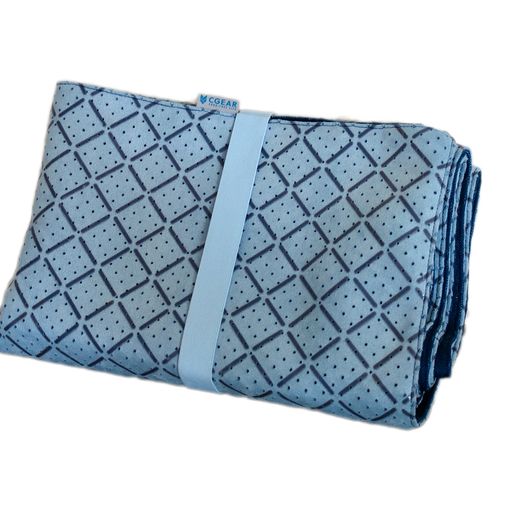 OUTDOOR YOGA MAT
Sale
Sale
Original price
$79.99
-
Original price
$79.99
Finally, an outdoor Yoga mat that's not made from Rubber.  CGear Outdoor Yoga Mat is Ultra-Light made from Vegan Suede and lined with Silicon ribs for grip.  This Non-Slip Travel Yoga Mat is Thin, Portable and easy to Fold and pack away.  Ideal for Pilates and Outdoor Yoga.
Our Quick Dry Workout Mat is 72" x 25" in Color: Dusty Blue Navy
Non-Slip Material - Lightweight and Compact developed specifically for an outdoor environment, this yoga mat is made with a high-traction, non-slip Vegan Suede material that provides you the grip and stability you need for any pose. Made from sturdy Vegan Suede and Silicone ribs that run along the top for grip and underneath is a PE Mesh providing our unique SAND FREE benefit.  No matter what kind of yoga you practice, you don't have to worry about slipping or sliding during your workout.
Foldable Design - The ultra-thin, lightweight design makes this yoga mat a great choice when packing for a yoga class or weekend getaway. It's easily foldable, giving you plenty of space in a suitcase or backpack when travelling and allows you to bring along your workout essentials wherever you go.
Portable & Lightweight - Weighing only 2.0 lbs, this yoga mat is perfect for busy lifestyles and active travel.  The ultra-thin, lightweight design makes it easy to carry and store away.  Measurements when folded: 12" x 9" x 3".
Sturdy & Durable - This yoga mat is designed with a strong, durable material that is designed to last. The mat is 72" long and 25" wide, ensuring you have plenty of space for your practice. The high-grip, anti-tear fabric is easy to clean and stretches to fit any yoga position.
Multi-Purpose Design – Not just for yoga, this mat works for a variety of workouts such as stretching, Pilates and general fitness class. The large size is ideal for any person, and the thin material allows you to feel connected to the ground during your workouts.
Made from sturdy Vegan Suede, Silicon and PE Mesh.  Silicone ribs run along the top for grip. 
Patented Two-Layer System – precisely engineered system of polyester layers that allow sand, dirt, and dust to fall through the fabric without being able to come back up.
Durable For Repeated Use – CGEAR technology was originally developed for the military, and though our products see more vacations than battlefields, they're still made to withstand a lifetime of rugged use.
Perfect For Everything Outdoors – In addition to sunning on the beach, Sandlite mats are great for stretching and exercising, picnicking, camping, backpacking, and protecting important equipment.
PATENTED TECHNOLOGY
CGEAR's Sandlite Mat is the only product made with patented technology to offer a truly sand-free experience. Here's how it works: We stagger layers of precisely engineered polyester to form a type of conveyor belt. Each layer is designed to allow particles of sand, dirt, and dust to fall through the fabric rather than sit on its surface.
Because the layers are staggered, sand can only go one way (down), not back up. And because we use polyethylene, sand doesn't stick to the material. It falls through naturally and is quickly removed with the swipe of a hand. Best of all? Our lightweight and ultra-thin weaves are soft to the touch.
Air passes through CGEAR's patented weave effortlessly, meaning you don't have to hassle with weights or tie-downs. All our mats roll up into a compact package for easy transportation. They feature a convenient carrying handle as well as an elastic closure loop, which keeps them rolled tightly and securely.
SIZED TO YOUR NEEDS
ONE SIZE 72" x 25" | 183cm x 64cm -| 2.0 lbs | 1kg
FEATURES
Sand free (patented) weave tech
Light Weight
Compact
Quick Dry
Machine Washable